Science and Civilizational Values
September 27 @ 6:00 pm

-

7:30 pm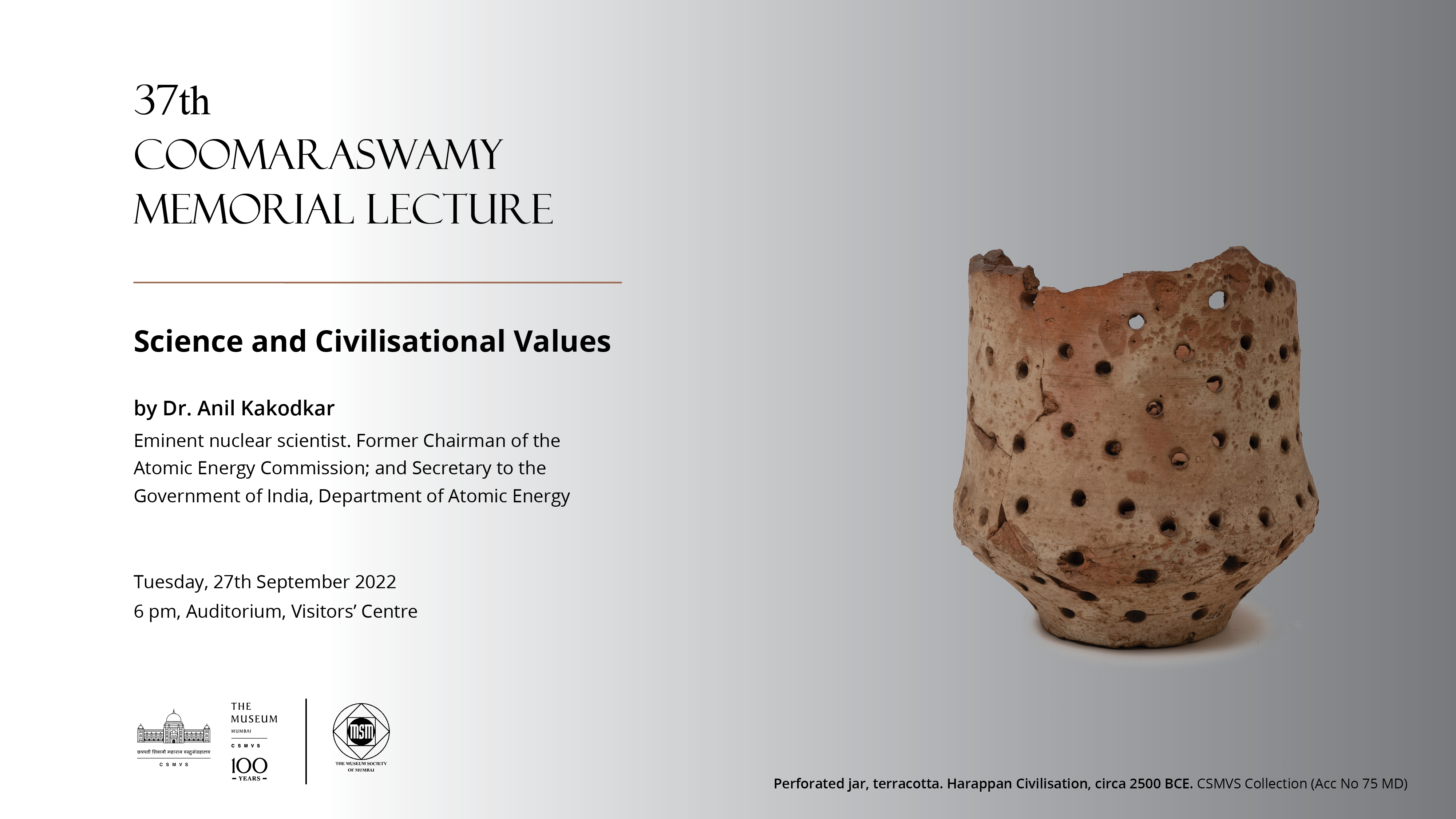 by Dr. Anil Kakodkar
37th Coomaraswamy Memorial Lecture
The prestigious annual Coomaraswamy Memorial Lecture was instituted by the Trustees of Chhatrapati Shivaji Maharaj Vastu Sangrahalaya, Mumbai (formerly Prince of Wales Museum of Western India) and the Museum Society of Mumbai in 1979 in memory of Ananda Kentish Coomaraswamy, a seminal theorist and philosopher of Indian art. Coomaraswamy's writings have been groundbreaking, placing him among the pioneering art historians of the twentieth century.
Dr. Anil Kakodkar
Dr. Anil Kakodkar is an eminent nuclear scientist. He is Chancellor of the Homi Bhabha National Institute; Chairman of the Rajiv Gandhi Science & Technology Commission; and Member of the Atomic Energy Commission. He was Director of Bhabha Atomic Research Centre (BARC) during 1996-2000; Chairman of the Atomic Energy Commission; and Secretary to the Government of India, Department of Atomic Energy during 2000-2009. Dr. Kakodkar has worked for the development of the atomic energy programme in India throughout his professional life. A TIFAC apex group led by him has brought out a Technology Vision 2035; which was released by the Hon. Prime Minister of India in 2016. For his exemplary work, Dr. Kakodkar has been honoured with the Padma Vibhushan.
Presently Dr. Kakodkar devotes his time primarily to issues related to energy, education and societal development. He has been propagating the concept of CILLAGE, a knowledge-based ecosystem for bridging city and village gaps for technology enabled sustainable development in rural areas.
Related Events