Museum Art Conservation Department
CSMVS Museum Art Conservation Department aims to spearhead heritage conservation-restoration, research & development, and training in India as well as in other nations in the region, through its work, as well as by encouraging collaborations and sharing of expertise.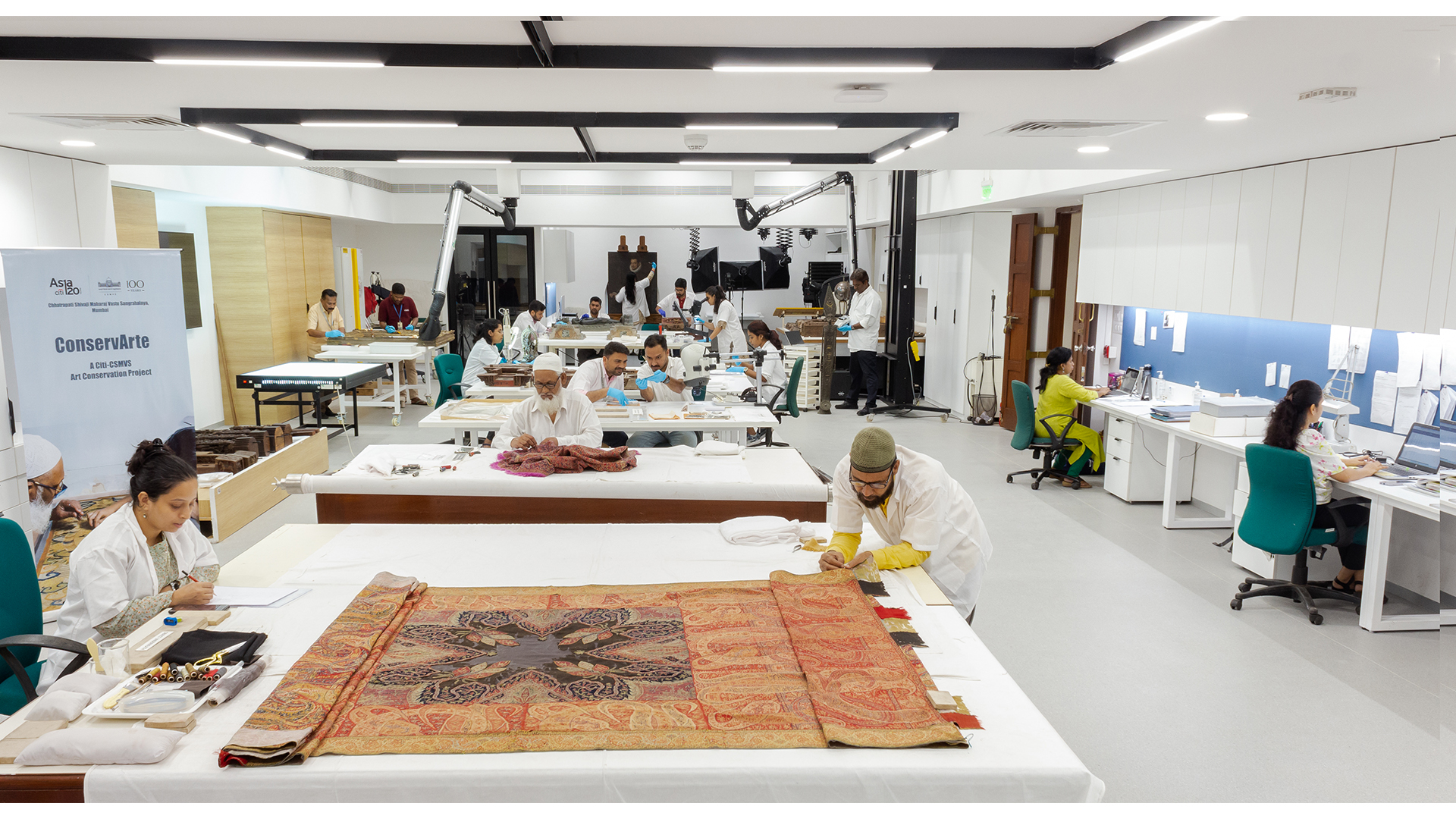 The CSMVS Museum Art Conservation Department, housed in the Chhatrapati Shivaji Maharaj Vastu Sangrahalaya, was established in 2008, under the Metro Museum Modernization Plan supported by a project grant from the Ministry of Culture, Government of India. Besides taking care of the Museum collection, the conservation centre is conscious of its responsibility to work together with other institutions to strengthen the art conservation movement in India.
Conservation Restoration
CSMVS MACC comprises of a team of over 30 personnel that includes conservator-restorers, research and documentation staff. The team members are encouraged and provided opportunities to build up their professional capacities.
The conservation centre is continually improving its facilities and competencies to implement preventive and remedial conservation of contemporary, artistic and historic works such as,
Oil paintings on canvas and panel
Tempera paintings on paper and cloth
Miniature paintings, manuscripts, other works on paper
Objects including polychrome wood sculpture, decorative arts and works on metals, stone, terracotta, ceramics, glass, ivory, bone, leather, and parchment
Textiles
Natural history specimens
Conservation of objects
Between 2008-2021, over 7798 art objects were registered at the CSMVS MACC for varying levels of analyses, documentation or treatment. This steady stream of objects provides a great opportunity of work experience for the team, interns and students involved with the conservation centre.
Support for Events and Exhibitions
The CSMVS MACC teams are reliable partners for any national or international exhibition and event. Their responsibilities include checking loan documents, condition inspection, supervising packing and transport, collection care and co-ordination of seminars and events.
For enquiries regarding Conservation please email us to artconservation@csmvs.org
Partner With Us
All requests and proposals for partnerships are first approved by the Board of Trustees, CSMVS. Similarly, proposals for donations have also to be approved.
An individual or organisation making a donation to CSMVS is eligible for a 50% deduction from the taxable income under Section 80G of The Income Tax Act of India.
Contact us
csmvsmumbai@gmail.com|artconservation@csmvs.org
Tel: +91 022 22844484 | 22844519
Visit Us
CSMVS Museum Art Conservation Centre,
Chhatrapati Shivaji Maharaj Vastu Sangrahalaya,
159–161, M.G. Road, Fort, Mumbai-400023